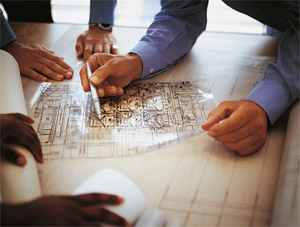 Increased Productivity
A house can be drawn faster in SoftPlan than in AutoCAD®. In SoftPlan, a wall is drawn as a smart object complete with all of the properties of a physical wall - the length, height, thickness, and construction materials (top plates, drywall, studs, plates, etc.). In AutoCAD®, that same wall is drawn as a series of parallel lines or planes that contain no construction information. Walls drawn to form a corner in SoftPlan are automatically joined together based on the physical properties of the construction materials involved. In AutoCAD®, walls are joined manually with commands such as fillet, extend, and trim.
Maximum Automation
Since SoftPlan drawings are created with smart objects, a virtual model of the house is being created as the floor plan is being drawn. This information is then used to automatically create elevations, 3D renderings, materials lists and more.
A Short Learning Curve
For those not currently using AutoCAD®, SoftPlan is the clear choice based on how easy SoftPlan is to learn. Many current SoftPlan users who used AutoCAD® bought SoftPlan looking for 3D renderings or materials lists. Not only did they get photo-realistic 3D renderings and dead-on-accurate materials lists, but they ended up with an easy-to-learn and comprehensive tool that increased their productivity.
"The design aspect of this CAD just makes sense! I've been using AutoCAD® for many years now and have done my share of framing and construction...It's been a real pleasure using Softplan... very rewarding seeing a house come together!"
Dan Blatz
View-It Design, Port Burwell, ON, Canada
"I was taught in school on AutoCAD® and then worked for several years using AutoCAD® Architectural Desktop 14 and loved it. I was very proficient and was the one the firm turned to, to get a job done for a deadline. I then decided to go into business with my dad and we continued to use AutoCAD® until we went to one of the International Builder Shows. At the show we looked at the Chief Architect® and SoftPlan booths and my dad was really impressed with SoftPlan. I was adamant about not changing software and said, 'AutoCAD® is the Cadillac, why should we downgrade?' While I was at another booth he slipped back to the SoftPlan booth and bought SoftPlan. I have used SoftPlan for the past 8 years and it works great. The more I use SoftPlan the more I love it. AutoCAD® who? "
Chris Proost
Hanover Homes, Richmond, VA, USA
This is the major design program I use, rarely use ACAD anymore, except to make 3-D models for parts to be placed in SoftPlan 3-D models. Unmatched tool, and I've sampled many AutoCAD 2016 suite, 3DS Max, SketchUp, and who knows how many more. Nothing compares to this in accuracy and ability to do a complete 3500SF design in just over 1 day.
James Holley
Holley & Associates Design LLC, Westfield, IN, USA