"I have found great success with reView 3D. I recently designed a home for a builder and created a 3D interior and exterior model in reView 3D. When the builder showed the 3D reView file to the buyers, the contract for the house was signed that day! Since the buyers were able to see what the house would look like, they were sold right then and there. Several days later the buyers said 'We bought the house because we were able to see it in 3D.'
This is such a tremendously powerful sales and presentation tool, that I now have clients that want me to create 3D models with reView on existing floorplans. This has allowed me to generate even more business for myself."
Steve Haarmann
Design Works Home Plan Services, Inc., Gainesville, GA
reView allows you, your clients, and your staff to:
Redline a drawing using typical mark-up tools
Create punch lists directly on the drawing files
Add comments to the drawing
Place service symbols such as electrical outlets and TV jacks
Query between any two points to calculate distance
Import mark-ups back into SoftPlan
Create schedules of notes, punch items, and service symbols
Print reView drawings
Export SoftPlan files as PDFs
Send 3D models to clients for viewing
reView makes it easy to communicate with:
Clients - Your customer can take a virtual tour at their leisure and have input throughout the building process without the need for numerous scheduled appointments.
Trade Contractors - Email your drawings to a trade contractor to get estimates or communicate design revisions.
Field Staff – The reView viewer gives field staff access to all the information they will ever need to complete the project.
Free Viewer
The free reView viewer allows anyone to see your drawings and allows complete navigation of the 3D model, while security settings allow you to maintain control of your work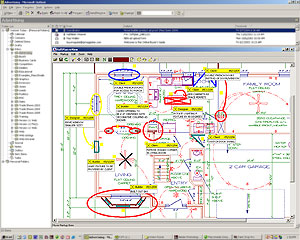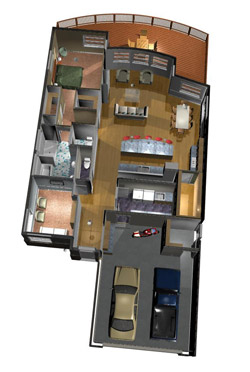 "We are design-build, and purchased the reView module years ago. It is not so much a tool where minor changes can be made by others, as much as it is a toolbox for review, with lots of plan study and note tools for communications.
Our clients who have downloaded the free reView software from SoftPlan find the learning curve easy, and use it from early design submissions through site punch out. They also understand it is easily the best tool for interactive communications between us in both the design and build process.
Our subs, some vendors and professional service providers (structural engineers) have also enjoyed the benefits.
I recommend the reView tools, and would do it again if I had not done so before."
John Luther
Brothers Custom Works, Inc., Hungerford, TX